The Best Weight Loss Protein Powder
24 grams of pure, easy to digest protein from grass-fed cows

Manufactured to the highest standard and third party tested to ensure the purest, most effective, undenatured protein powder
Each weight loss protein shake contains 0 net carbs and less than 1 g of fat
Zero lactose means this powder brings the full body toning, weight loss, and lean muscle support of powerful whey proteins WITHOUT the harmful side effects of other dairy products
Organic ingredients with ZERO growth hormones, antibiotics, GMOs, pesticides, gluten, soy, preservatives, artificial sweeteners, flavors, or colors

60-Day Money Back
Guarantee

Hormone, Gluten
& Soy Free


Nutrients and Ingredients
Why Should You Use FBBC Approved Whey Isolate Protein Powder?
Research has shown that the WORST way to lose weight -- in terms of speed of weight loss, quality of life, and chance to keep results long-term -- is calorie counting.
So let's instead focus on ADDING the most powerful fat loss booster to your diet: protein. Over 20 years of studies have shown that higher protein diets -- combined with an effective exercise program like Fit Body Boot Camp's fat-shredding 30 minute workouts -- create faster, longer lasting weight loss, and they also help with…

• Boosting the metabolism
• Controlling the appetite
• Improving overall diet through reduced cravings
• Speeding up fat loss
• Supporting and protecting fat-torching lean muscle
• Enhancing muscle strength (but not making muscles bulky)
• Helping post-exercise recovery
• Keeping a strong metabolic rate with age
• Maintaining a slender, toned body
• Aiding glycemic control
• Improving markers of heart health
• And more!

Despite this long list of benefits, most people do not consume enough protein daily to unlock the full fat loss, body toning, and appetite management that protein provides. In fact, some studies estimate that the average person only consumes HALF of what's considered the optimal protein amount from their food each day.
The truth is, a pure, zero carb, ultra low fat, great tasting protein powder is the foundation for quick and long-lasting weight loss, high energy levels, overall health, better body composition, and healthy aging.
However, not all protein powders are created equal. You see, many protein powders you might find on the shelf are working against your weight loss for these reasons:

• They use non-organic ingredients that have been exposed to sewage, radiation, and heavy metals
• They include "thickening agents" like soy lecithin which create hormone imbalances and weight gain
• They come from cows that have been force-fed GMO grains like corn and soy and have been treated with antibiotics and growth hormones that leak into the products they produce
• They contain fat and carbohydrates that can quickly throw a healthy diet out of balance
• They use sugar and other, artificial sweeteners for taste
• They contain gluten, soy, lactose, maltodextrin, and other ingredients that can cause adverse side effects (including unwanted fat and bloating)
• Their low-quality ingredients and processing leaves them difficult to digest, leading to discomfort, bloating, and wasted protein
• They don't even taste good! And they "mix" into a chunky, chalky paste that is difficult to choke down

That's why you want a Whey Isolate Protein designed to meet these high standards:
• Sourced from healthy, well-loved, grass-fed cows
• Carefully processed and third party tested to ensure the purest, most potent, easiest to digest protein
• Organic and FREE from growth hormone, antibiotics, soy, gluten, and artificial ingredients
• Naturally sweetened with a blend of monk fruit and stevia -- with NO sugar or fake sweeteners
• Easy to digest and pure enough to take on an empty stomach (which makes it great for healthy snacks throughout the day)
• Free from carbohydrates and super low in fat so you can easily increase your protein while keeping a balanced diet
• Mixes up thick, creamy, and delicious so it's even better than dessert

And, of course, you want a protein powder tailored specifically to weight loss and overall health. That's why you'll be thrilled to know FBBC Approved Whey Isolate Protein meets ALL these high standards and more.
With each serving of FBBC Approved Whey Isolate Protein Powder, you'll be nourishing your fat-melting lean muscles with 24 grams of organic, grass-fed protein from healthy cows NOT subjected to antibiotics, GMOs, or pesticides -- with only 100 calories, close to zero fat, and zero net carbs. Take comfort in knowing that you won't be contaminating your body with any potentially harmful ingredients since FBBC Approved Whey Isolate Protein Powder is FREE from soy lecithin, thickening agents, artificial ingredients for taste, color, or texture, GMOs, pesticides, gluten, and all the other junk that has no business in a weight loss protein shake.
Plus, FBBC Approved Whey Isolate Protein Powder features the best protein available from milk where we've removed the lactose. This is important because lactose is the leading cause behind the most common side effects of dairy. As you'll discover in a moment, whey protein is perfect for maintaining appetite control and a high metabolism all day long, so it would be a shame to miss out just because of the lactose.
Each FBBC Approved Protein shake mixes up smoothly with a rich, creamy consistency designed to not only taste amazing but also time-release those proteins for maximum effect. FBBC Approved Whey Isolate Protein will keep you feeling satisfied and full, crack down on cravings, and support lasting results.

What Are the Benefits of Whey Isolate Protein?
Whey -- the liquid part of milk left over after straining -- is the highest quality protein source, and whey isolate takes this one step further. Whey concentrate (the other most common form of whey) usually retains some amount of fat, carbohydrates, and lactose, which can make it especially risky for weight loss. Whey ISOLATE gives you ALL the benefits of whey with NONE of the drawbacks. Whey isolate is the most concentrated, easily digest, and rapidly absorbed source of essential amino acids. When combined with sensible diet and exercise, whey isolate can:
• Build lean muscle (which burns fat and keeps it off)
• Speed up recovery and decrease soreness
• Improve stamina, strength, and muscle toning
• Support muscle function and prevent injury

But that's just scratching the surface! The amino acids leucine is most critical for those muscle-supporting benefits, but it's just one of many benefits found in whey. Whey isolate also provides:
• Faster metabolism -- Protein charges up the metabolism five times faster than fat or carbs, meaning you burn more calories and enjoy higher, more consistent energy. And because lean muscle tissue burns calories even at rest, whey protein transforms the body into an automatic, 24/7, fat-melting furnace!
• Appetite management -- Protein in general increases feelings of satisfaction and fullness thanks to the metabolic support we just mentioned. Whey isolate protein also brings its own specific advantages: it does more to reduce appetite than other protein sources, it stimulates the release of satiety (AKA fullness) hormones GLP-1, GIP, and CCK, and decreases levels of ghrelin, a hormone that stimulates hunger.
• Body fat management -- Burning more calories and eating less unhealthy food? Sounds like the perfect recipe for fat loss! Whey isolate protein supports both functions AND creates lean muscle that will keep burning calories at an accelerated weight and chase away the inches and pounds that try to creep back on with age.
• Carb control -- Because it helps release key blood sugar management hormones, whey isolate protein offers excellent glycemic control.
• Healthy aging -- Wouldn't you like to age gracefully and have people shoot too low when they try to guess your age? Here's the secret: sagging, wrinkled skin is caused partially by the muscles underneath the skin. Use whey isolate protein to keep those muscles tight, strong, and toned, and your skin will follow suit. Plus, you'll enjoy the benefits of lasting energy, optimal physical function, and overall quality of life regardless of what you're "supposed to" look like and feel.

The Best Ways to Use FBBC Approved Whey Isolate Protein Powder
Since almost everybody needs more protein in their diet -- and FBBC Approved Whey Isolate Protein Powder is so delicious and pure -- you can and should enjoy it at any time of day to bolster your diet and help you reach your weight loss goals. You can use it immediately after a workout to boost your results. You can mix it with some healthy fats and complex carbs to make a meal replacement shake for breakfast. You can even use it to whip up shakes or other treats for positive snacking throughout the day.
The simplest way is to take one scoop, pour in one of our convenient shaker cups, add water, coffee, or your preferred non-dairy milk, shake, and enjoy! We think you'll agree that the creamy, thick texture and mouth-watering dessert flavor makes FBBC Approved Whey Isolate Protein even better than a standard milkshake -- and you can drink it with pride knowing it's only 100 calories, almost zero fat, zero carb, and designed to charge up your metabolism and help make your dream body a reality.
But you can also mix it up with yogurt, oatmeal, or blended fruit to make a huge variety of healthy breakfasts. You can even use add it to guilt-free dessert recipes to make them not only guilt-free but powerful, healthy snacks to fuel your active lifestyle.
To discover these guilt-free recipes and countless other delicious, whole-foods-based recipes for breakfast, lunch, dinner, snacks, and desserts, be sure to join our friends at the Fit Body Boot Camp Global Family!

FBBC Approved Whey Isolate Protein Powder is a delicious, creamy, pure serving of the best protein from happy, grass-fed cows. This gourmet weight loss protein powder helps you feel full longer, eliminate cravings, and fuel your body with a steady supply of the building blocks needed to support weight loss, high energy levels, fat-burning lean muscle, and overall health.
Unlike other protein powders (like whey concentrate) that try to include other components of milk for added protein, we decided to ONLY serve up the cleanest powder of whey protein with none of the riskier ingredients in milk.
Our reasoning is simple: you want weight loss, so we're giving you ONLY the protein that supports that. The result is an obsessively refined, no-nonsense protein powder that boosts metabolism and helps accelerate weight loss WITHOUT any of the harmful ingredients that can sabotage your well-deserved results.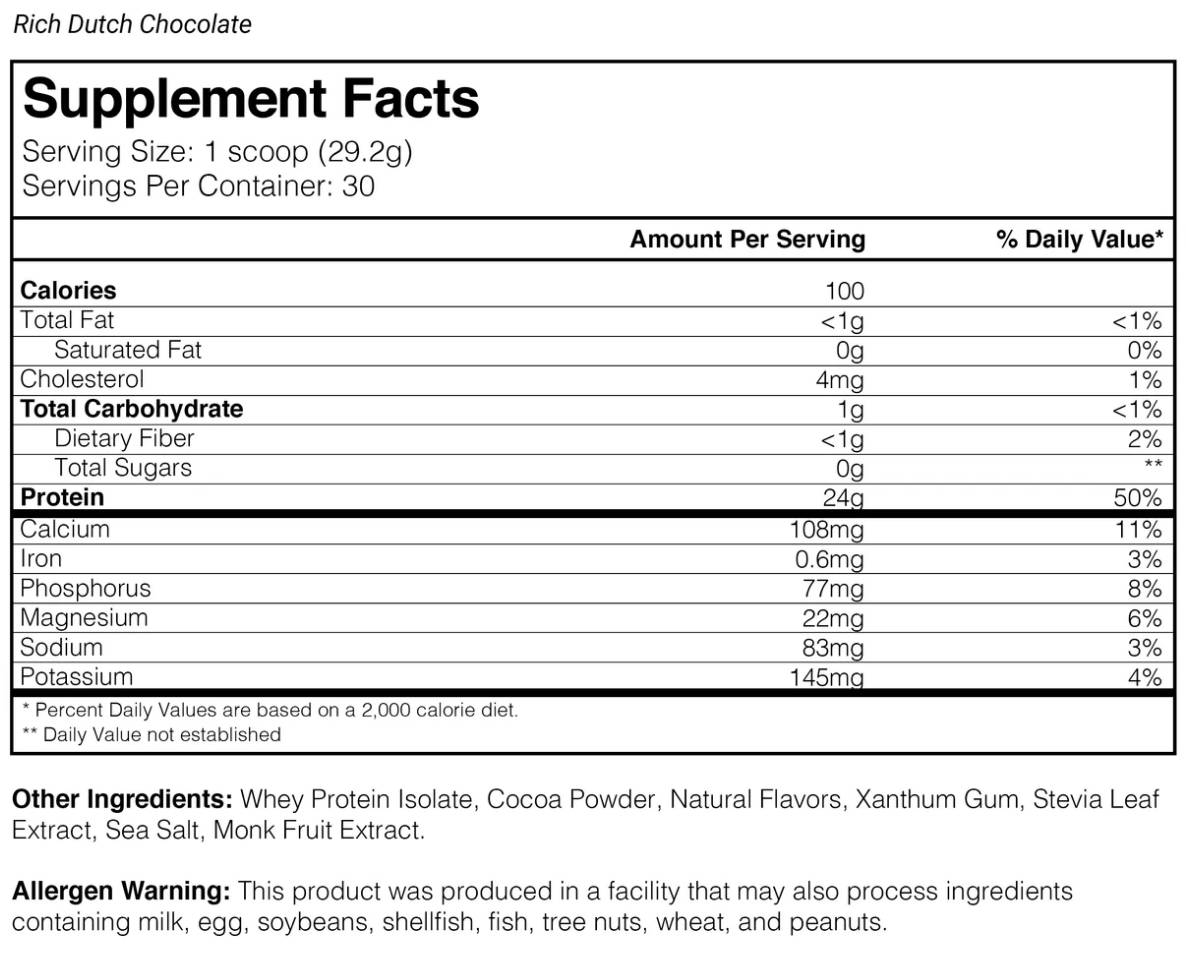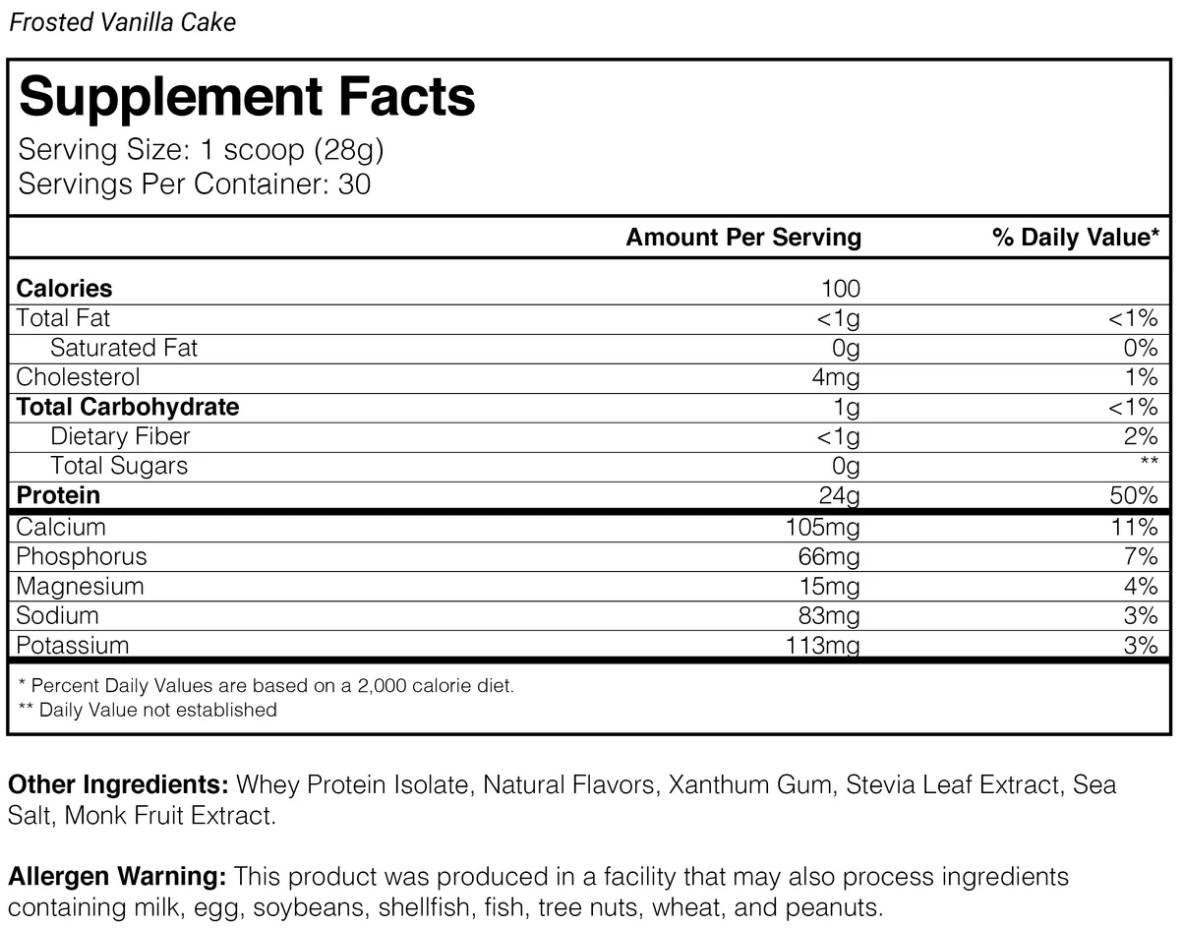 Q: What is the best way to take this protein powder?
Add one scoop of FBBC Approved Whey Isolate Protein Powder to 8 ounces of water (or your favorite non-dairy milk) and mix or blend until smooth. For best results, drink within 10 minutes of prep. For a cooler, thicker drink, add two ice cubes and blend. You can also mix FBBC Approved Whey Isolate Protein Powder into your favorite smoothie recipe, pudding, yogurt, or oatmeal.

Q: Does this protein powder contain caffeine or any other stimulants?
No.
Q: Are there any allergy concerns with this product?
Allergen Warning: This product was produced in a facility that may also process ingredients containing milk, egg, soybeans, shellfish, fish, tree nuts, wheat, and peanuts.
Q: Should I keep taking this product after I achieve my goals?
Your body will require protein every day to maintain a fast metabolism, a lean figure, and overall health. You aren't required to use FBBC Approved Whey Isolate Protein forever, but we haven't yet found a better protein source designed to support your YOUR weight loss goals, your convenience, and your desire for the best-tasting shakes and snacks.
Q: Is it safe to order online from your website?
Yes. We use Shopify, which is probably the safest online commerce platform. Shopify keeps you safe by:
- Paying good guy hackers for finding security loopholes or bugs (so they can close them)
- Rolling out security updates to all sites instantly and simultaneously
- Providing the best risk analysis tools on the web
Q: What if this product doesn't work for me?
While FBBC Approved Whey Isolate Protein was crafted to support your weight loss results, if for any reason you are unsatisfied with your purchase, just let us know and we will issue a prompt refund -- no questions asked. You're protected always by our 60-Day Money Back Guarantee.